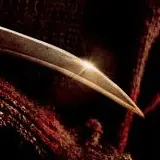 Warner Bros. is kicking up the publicity for the new remake of A Nightmare on Elm Street with a new poster today and promise of a new trailer just around the corner.
The new one-sheet theatrical poster debuted on MySpace and features Jackie Earle Haley as Freddy Krueger, burned clothes and all. This poster is similar yet more revealing than the first poster that debuted during Comic-Con last summer (see below).
Following the poster will be a new trailer that will debut at MySpace this Wednesday night at midnight PST.
A Nightmare on Elm Street hits theaters on April 30.