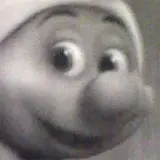 Our first look at what a Smurf might look like in Columbia Pictures' upcoming CGI/live action hybrid The Smurfs film came last September and was not much more detailed than the little plastic figurines that were a hot item back in the 1980s.
Now UGO has gotten their hands on another promotional image that shows the Smurf CGI design has evolved quite a bit over the past few months. This little nameless guy looks capable of expression and, although not in color, is more three-dimensional than his predecessor.
The Smurfs will reside in New York's Central Park and likely go up against a human actor playing villainous Gargamel. Pre-production is well underway with an anticipated July 2011 release date.