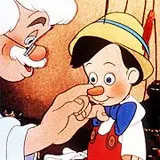 Back on August 26 we reported Disney President Bob Chapek revealed five Platinum titles were coming to Blu-ray Disc over the next two years: Pinnochio, Snow White and the Seven Dwarfs, Fantasia, Fantasia 2000 and Beauty and the Beast.
Now news is trickling out of the IFA in Berlin that confirms earlier leaked release date information regarding a couple of these titles.
Disney has stated Pinnochio will be the first title released next spring which coincides with the rumored March 9 release date floating around since earlier this year. They've also mentioned Beauty and the Beast will be the last of the lot released sometime in the fall of 2010.
The other leaked date, Snow White and the Seven Dwarfs, is for October 6 in 2009. That leaves spring 2010 for a simultaneous release of Fantasia and Fantasia 2000.
We'll pass along any additional information on these Disney Platinum Edition titles as it comes in.
Discuss Disney's Platinum Blu-ray releases in the dedicated HDR Forum thread on the topic.