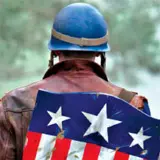 Earlier today Entertainment Tonight debuted the first official image of Chris Evans as Captain America as he appears on the cover of their latest issue. As it turns out, that image was just a teaser for Captain America: The First Avenger goodies hiding on the pages inside.
ComingSoon received the issue today and wasted no time scanning and posting the images from the issue. There's a nice variety of stuff you can check out below including the chamber Captain America is "born" in being monitored by Dr. Abraham Erskine (Stanley Tucci); Chris Evans ripped as Steve Rogers/Captain America after emerging from the chamber; Hugo Weaving as Johann Schmidt; HYDRA soldiers on bikes and in a sub; Hayley Atwell as Peggy Carter; Captain America post-motorcycle chase; and a great shot of Captain America walking away with an early version of the iconic shield.
As for the EW cover, you can see it in super high resolution by clicking the last image below.