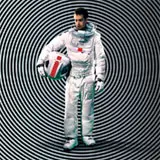 Call Moon the outer space version of Cast Away with Sam Rockwell instead of Tom hanks or just an incredibly cool concept for a sci-fi tinged psychological thriller. Either way do whatever it takes to find a theater playing it this June.
Yesterday was a huge day for Moon's director Duncan Jones who also happens to be David Bowie's son. He got to kick back and watch Sony Pictures Classics' roll out the first trailer, teaser poster and clips on the web — all of which are being received with high praise.
I'm going to pass on the clips as they're a bit *too* revealing. The trailer works as a hook well enough on its own without foraying into spoiler territory.
The poster was unveiled at AICN which you can see at a reduced size below (click the poster to see the full size version at AICN).