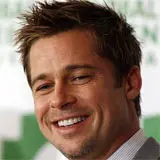 Phoenicians hoping to catch a glimpse of Brad Pitt this week will strike out on that endeavor.
Sony has pulled the plug on Moneyball, the Brad Pitt starring baseball drama that was set to commence production in Phoenix today.
Per Variety, the film has been placed into "limited turnaround" status meaning director Steven Soderbergh is clear to shop it to other studios. Warner Bros. Pictures and Paramount are likely candidates though no deal has been inked as of yet.
Brad Pitt and baseball seem like a perfect on-screen marriage and initially Columbia Pictures boss Amy Pascal felt the same way. Apparently the draft she read changed dramatically by the shooting script and she got cold feet and took a step back.
Moneyball's shooting script is north of $50 million, a high sum for a baseball pic that will not necessarily perform well overseas. With the narrative interspersed with real-life baseball player interviews including David Justice, Moneyball does not follow the traditional template for a baseball themed film.
If no buyer can be found, Sony can either find a new director, delay the film for rewrites or jettison the project entirely.
A Brad Pitt starring film in jeopardy. Who would have thought?