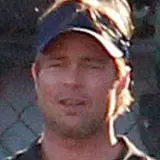 Director Michael Lewis and screenwriters Steven Zaillian and Aaron Sorkin's Moneyball starring Brad Pitt, Jonah Hill, Philip Seymour Hoffman and Robin Wright is stepping into the Blu-ray and DVD batter's box on January 10.
The story of Oakland A's manager Billy Beane has racked up over $64 million and counting since its theatrical debut in late September, 2011. With a production budget of around $50 million, it's already considered a success and could gain more traction into 2012 if nominated for any Academy Awards.
Sony is releasing Moneyball on Blu-ray in standalone and DVD combo pack skus. The film will be presented in 1.85:1 1080p video and 5.1 DTS-HD Master Audio, and include these bonus features:
Moneyball PS3 Wallpaper/Theme
Blooper-Brad Loses It
Billy Beane: Re-Inventing the Game
Drafting The Team
Moneyball: Playing The Game
Adapting "Moneyball"
Click here to pre-order Moneyball on Blu-ray for $24.99 at Amazon.com, 31 percent off the list price.
Click here to pre-order Moneyball on Blu-ray and DVD combo for $28.49 at Amazon.com, 30 percent off the list price.