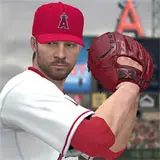 2K Sports has passed along a new trailer for MLB 2K13, the latest entry in the ongoing series that will once again feature the Perfect Game Challenge awarding the first person to throw a perfect game a cool $1 million.
The new trailer is set to the song "Howl" by The Gaslight Anthem and features a collage of stars like Clayton Kershaw and the lone star left in Miami, Giancarlo Stanton, doing their thing. Cover athlete David Price is also heavily featured, of course, as are the newly teamed up Upton brothers in the Braves outfield, Justin and B.J.
MLB 2K13 throws its first pitch on Xbox 360 and Playstation 3 beginning March 5, 2013.
Click here to pre-oder MLB 2K13 for Xbox 360 or Playstation 3 with free shipping at Amazon.com.