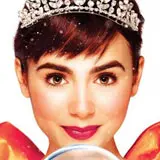 Mirror Mirror will have its work cut out for it at the box office this weekend. Not only is the first of two Snow White-themed feature films this year forced to contend with The Hunger Games juggernaut, it must overcome mediocre reviews that have been piling up since screenings began.
In Relativity Media's Mirror Mirror from eclectic director Tarsem Singh, an exiled Snow White (Lily Collins) takes on the evil Queen (Julia Roberts) to win back her kingdom and woo Prince Alcott (Armie Hammer). Along her journey, Snow White will unite with seven rebel dwarfs to aid in completing her quest and reclaim her birthright.
Unlike Universal's Snow White and the Huntsman, Mirror Mirror plays for family friendly laughs. The Queen and her servant (Nathan Lane) are more bumbling and goofy than imposing, and the dwarfs offer up their own unique blend of comic relief.
"Goofy" is a word that comes up often in the critical reviews of Mirror Mirror at Rotten Tomatoes, where the film has earned a 53% rotten rating on the eve of its release. Other words used to negatively describe the effort include "uneven," "dull," "boring" and "infuriating."
Even critics slamming the film mostly agree that it looks nice, even "cartoonish," as one would expect a Tarsem Singh effort to present. They also agree looks can be deceiving and there's not much depth to leave a lasting impression.
On the other side of the fence are critics who found the Mirror Mirror humor to be "cheeky" and "charming," and the visuals to be "luscious." Roberts steals the show and Hammer is close behind, while Collins is upstaged by both. More than one critic agreed that Mirror Mirror plays better for kids than adults with its lack of potty humor, something to keep in consideration when potentially venturing out to the cinema this weekend.
Source: Rotten Tomatoes