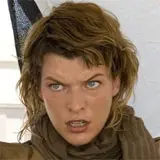 With Milla Jovovich making the media rounds to promote her latest film A Perfect Getaway, Bloody-Disgusting.com was able to get the actress to open up about her starring role in the fourth Resident Evil film, Resident Evil: Afterlife, gearing up to go into production.
Only recently did Milla's husband, Paul W.S. Anderson, come on board to direct Afterlife after earlier being confirmed as a producer. He has yet to make a public statement about the film so Milla took it upon herself to let us all know where Paul is at. "Paul just signed a deal with the people [James] Cameron used on Avatar because they impressed him the most," she told BD. "[Paul] has basically seen like every 3-D movie ever made in the last two months to prepare for it. We're definitely using all the best equipment. All the storyboards are centered around how to make the 3-D the best it can be. We're really trying to use that medium to its fullest."
Milla also offered up a little tidbit about Alice's role in Afterlife. Yes, there will be clones. "The clones are definitely in it," she offered. "You've got multiple Alice's kicking serious butt. And definitely the real Alice has some pretty major things happen to her that change the stakes a little bit. That's probably all I can give you in a vague sort of way. It's definitely going to be a different Alice than who we're used to."
Resident Evil: Afterlife begins shooting Sptember 28 for a September 17, 2010 release. Head over to Bloody-Disgusting for their full interview report and look for supporting roles to be cast in the weeks ahead.