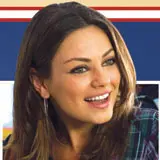 Mike Judge's 2009 office place comedy Extract starring Mila Kunis, Jason Bateman, Kristen Wiig and Ben Affleck is coming to Blu-ray Disc and DVD just in time for Christmas on December 22.
Extract will make its way to Blu-ray in 1.85:1 1080p video and 5.1 DTS-HD Master Audio 48kHz/24-bit.
The DVD edition will include a lone bonus feature while Blu-ray will benefit from a pair of exclusives.
Mike Judge's Secret Recipe – the ingredients for a classic Judge film
Deleted scene (BD exclusive)
Extended scenes (BD exclusive)
Miramax has set an SRP of $39.99 for Extract on Blu-ray which should bring Amazon.com pricing in around $28. Check back for that pre-order link when available.