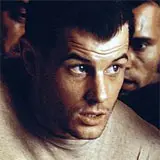 Sony Pictures Home Entertainment has announced plans to bring the 20th anniversary edition of Midnight Express to Blu-ray Disc on July 21.
Midnight Express stars Brad Davis and Randy Quaid in the story of the nightmare an American student must endure while at a Turkish prison.
Sony will present Midnight Express on Blu-ray in 1.85:1 1080p video and 5.1 Dolby TrueHD audio.
Bonus features have been culled from the 20th anniversary DVD edition. Sony also lists a "booklet" but I'm unsure if that's simply a pack-in pamphlet with a few pages or something more substantial.
Commentary with Director Alan Parker
The Producers
The Production
The Finished Film
Photo Gallery
Booklet
Click here to pre-order Midnight Express on Blu-ray for $30.49 at Amazon.com. Check back regularly for the addition of high-res cover art.