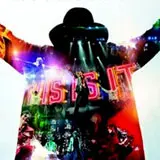 There is nothing "usual" surrounding the release of Michael Jackson's This Is It docu-film. Its existence falls under the most unusual circumstances imaginable leaving little room for surprise as to what might come next.
The latest oddity is the appearance of Blu-ray Disc (and DVD) cover art work for Michael Jackson's This Is It in a retailer trade magazine on the day of its theatrical release. Sony Pictures Home Entertainment offers no additional information in the add but it does beg the question: with a limited 2-week run in theaters, will This Is It show up on home video in under 3 months?
While on the topic of This Is It, be sure to stop by our Weekend Box Office Prophet Game to predict what you think the film will make theatrically this upcoming weekend.