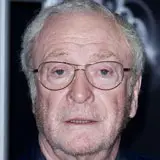 Christopher Nolan's Inception film project continues to attract some of the top talent available.
Shortly after word broke that Jessica Chastain (Zero Dark Thirty) had boarded the project, Deadline is now reporting that Michael Caine will join her. Matthew McConaughey and Anne Hathaway had previously been cast.
For Caine, Inception marks the sixth collaboration with Christopher Nolan. He previously appeared in Batman Begins, The Dark Knight, The Dark Knight Rises, The Prestige and Inception.
As with Inception before it, details are extremely sketchy about Interstellar at this time. What we do know is that Steven Spielberg was originally attached to the project back in 2006 with a script penned by Jonah Nolan, Chris' brother. After Spielberg left and Chris' schedule freed up, he joined his brother to rewrite the Interstellar script by mixing in an original idea and set it in motion with Paramount and Warner Bros. co-producing.
The logline for the film reads simply, "A heroic interstellar voyage to the farthest borders of our scientific understanding."
Though no official Inception production start date has been mentioned publicly, a mid-to-late 2013 shooting schedule seems likely given how quickly the cast is coming together.