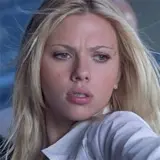 Michael Bay's The Island starring Ewan McGregor and Scarlett Johansson is finally coming to Blu-ray Disc in North America on June 21 to coincide with the early July release of Bay's Transformers: Dark of the Moon in theaters.
The Island, which co-stars Steve Buscemi, Djimon Hounsou, Michael Clarke Duncan and Sean Bean, will be presented on Blu-ray in 5.1 DTS-HD Master Audio and 1080p video. Bonus features include a commentary by director Michael Bay and three featurettes: The Future In Action; The Making of The Island; and Pre-visualization: Forward Thinking.
The Island on Blu-ray carries an SRP of $24.99. Check out the newly released cover art below.
Click here to pre-order The Island on Blu-ray for only $16.99 at Amazon.com.