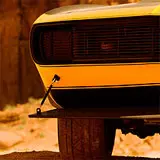 Michael Bay and Paramount have been in a giving mood when it comes to the aesthetic makeover all Transformers robots are receiving for Transformers 4. Bay has been using his official website to share the goods as photographed in Monument Valley Navajo Tribal Park, and the last two represent new looks for a couple old friends.
First up we have a more compact and beefy design for Optimus Prime. He's still got the blue with yellow and orange flames paint job used during the first three films. According to the image's caption, this new Prime is "completely upgraded and custom built" by Western Star, a subsidiary of Daimler Trucks North America. There's no sign of Prime's trailer which made a brief appearance in Transformers: Dark of the Moon, but that doesn't mean it won't pop up at some point in the new film.
Bumblebee's makeover is a bit more dramatic as his car model has gone back in time to a vintage 1967 Camaro SS. The paint job is also different than what we've seen from Bumblebee in the past with a black and yellow fade effect. This looks more like the original look of Bumblebee in the first Transformers film before Sam teased him into a modern upgrade.
Including the two Autobots revealed a couple days ago, we have now seen four of the new-look Transformers that will appear in Transformers 4. We haven't seen a single Decepticon yet, and it may be awhile before any of them are revealed. It's also a strong possibility that most of the new foes will be entirely CGI creations and thus there aren't real-world models to photograph.
Transformers 4 stars Mark Wahlberg, Stanley Tucci, Nicola Peltz, Kelsey Grammer, Sophia Myles, Bingbing Li, Jack Reynor, and of course the voice of Peter Cullen as Optimus Prime. What is considered the first in a new series of Transformers films is scheduled for release on June 27, 2014.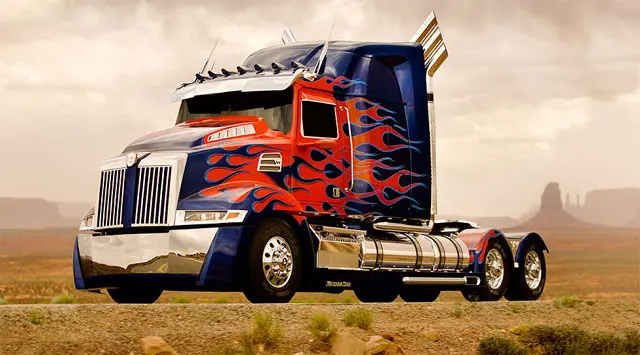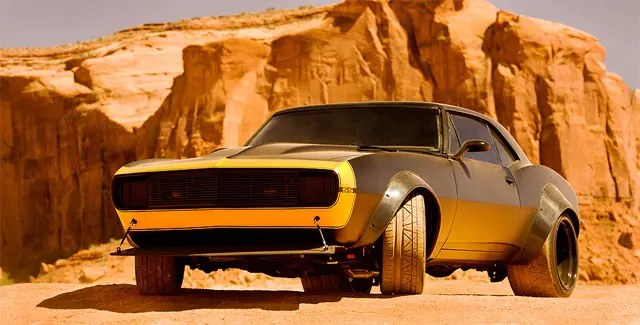 Source: Michaelbay.com