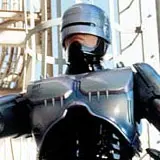 MGM Home Entertainment has finally announced the Robocop Trilogy is coming to Blu-ray Disc on October 5.
Paul Verhoeven's original Robocop has been available on Blu-ray for some time now. His Robocop 2 sequel and Fred Dekker's Robocop 3 are making their Blu-ray debut in this set.
We can only assume all three films will be bare bones based on the lack of any supplemental features mentioned in MGM's official Robocop Trilogy press release. Look for 5.1 DTS-HD Master Audio and 1080p video across the board.
Pre-order Robocop Trilogy on Blu-ray for a discounted price at Amazon.com.