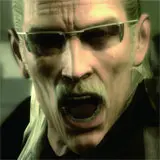 Konami has announced that they are shutting down the servers for the online component of Metal Gear Solid 4: Guns of the Patriots on Playstation 3. The servers for Metal Gear Online (MGO) have been up and running since the summer of 2008, and allowed players to battle each other in the Metal Gear Universe.
The shut down will occur on a rolling basis, with the Metal Gear Online shop scheduled to close on March 21, 2012.
On April 24, all new player registration will be suspended, and expansion packs and preset codec message appeal packs will be available at no cost. Also, you can still redeem reward perks, but the ability to purchase new items and perks will not be available.
Finally, on June 12, the Metal Gear Online world comes to an end, ending a successful, if not somewhat bumpy, four year run. Maybe this is what the Mayans were talking about all this time. It wouldn't be out of the question for series creator and producer, Hideo Kojima, to tie MGO to the Mayan calendar.
With rampant rumors of a fifth game in the Metal Gear Solid story in development, the MGO world may not be gone for long. In the meantime, if you are still playing or ever wanted to give Metal Gear Online a try, now is the time to do so before it all comes crashing down.