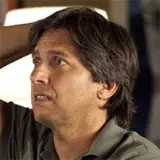 TNT pulled the plug on the critically acclaimed drama Men of a Certain Age today following the show's recent season 2 finale and
In a statement issued to the media, TNT praised the show's "impeccable performances and great storytelling." The statement also claimed the cancellation decision was "extremely difficult" for TNT to make.
Men of a Certain Age starred Ray Romano, Scott Bakula and Andre Braugher as a trio of middle-aged men facing the reality of growing older. The slow pacing was ripe for awards recognition and earned it a Peabody. Star Andre Braugher had just received his second Emmy nomination for a supporting role in a drama.
Ultimately an audience never built and the male-centric show struggled to gain footing in the competitive cable landscape. In the advertiser-friendly 18-49 demographic, it only drew a paltry 0.4 rating. On average its total viewership hovered around 2 million per episode. Other TNT shows like the new alien invasion drama Falling Skies and The Closer have been pulling ratings multiple times higher.
One of the shows that will help TNT's summer ratings next year is the new updated version of Dallas that mixes the original's core cast with fresh new faces. TNT also has original scripted programs The Closer, Leverage, Rizzoli and Isles, Memphis Beat and HarthoRNe to work with, all of which appeal to a much broader male and female audience than the middle-aged men that Men of a Certain Age did.