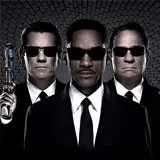 Sony has announced a November 30 release date for Men in Black 3 starring Will Smith,Tommy Lee Jones and Josh Brolin on Blu-ray 3D, Blu-ray and DVD configurations. A quick check of the calendar confirms that day falls on a Friday.
Barry Sonnenfeld's Men in Black 3 (MIB 3) opened theatrically on May 25, 2012 and earned $54.6 million during its first weekend of release. Since then, the sequel – the first in the franchise offered in 3D – has amassed huge worldwide box office business with $611 million and counting.
Sony got a head start on Men in Black 3 home video business by offering pre-orders at Amazon.com of the Blu-ray 3D and Blu-ray skus the same weekend the film opened theatrically. With the pre-order came a free ticket to see the film in theaters.
The Blu-ray 3D and Blu-ray versions of Men in Black 3 will both come with the DVD and an UltraViolet copy (Blu-ray 3D will also include Blu-ray in a three-disc configuration). The film will be presented in 1.85:1 1080p video and 5.1 DTS-HD Master Audio, along with these bonus features:
Spot the Alien Game
3D Models of MIB Techology
Converting to 3D (3D – BD 3D exclusive)
The Making of Men In Black 3
Men In Black: 1960's vs. Today
Creating the Visual Effects
Scene Investigation
Progression Reels
"Back In Time" Music Video by Pitbull
Click here to pre-order Men in Black 3 on Blu-ray 3D for $28.99 at Amazon.com, 30% off the $55.99 list price.
Click here to pre-order Men in Black 3 on Blu-ray for $38.99 at Amazon.com, 30% off the $40.99 list price.