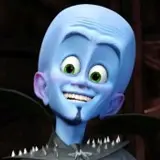 Dreamworks' Megamind starring the voices of Will Ferrell, Brad Pitt, Tina Fey, David Cross and Jonah Hill will land on Blu-ray, Blu-ray and DVD combo, and DVD on February 25, but a Blu-ray 3D version is currently not in the studio's release plans.
Rather than market 3D, Dreamworks is pushing Megamind: The Button of Doom, an all-new animated film (its length is not specified) starring the feature's voice cast. The new adventure picks up where the film left off as a new dynamic duo tackle their first day on the job. This film is being advertised as available for a limited time only exclusive in the Blu-ray and DVD combo pack and DVD double pack releases.
The Blu-ray version of Megamind will be presented in 1080p video and 7.1 Dolby TrueHD audio. The bonus features are as follows:
Exclusive Blu-ray Features
The Animators' Corner
Trivia Track
Comic Creator
Behind the Mind
Additional Bonus Features
Meet the Cast of MEGAMIND
Deleted Scene
Inside Megamind's Lair
AnimatorMan
You Can Draw Megamind
Mega Rap
The Reign of Megamind—Video Comic Book
Spot the Difference
Filmmakers' Commentary
Previews
World of DreamWorks Animation: Fun-filled looks into the worlds of Shrek, How To Train Your Dragon, Kung Fu Panda and Madagascar
Pre-order Megamind on Blu-ray and DVD combo pack for a discounted price at Amazon.com.