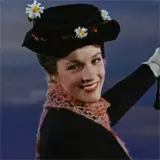 Get a spoonful of sugar ready because Mary Poppins will be floating to Blu-ray on December 10 in celebration of her 50th anniversary.
The Mary Poppins Blu-ray release date is timed to coincide with December 20 release date for Saving Mr. Banks starring Tom Hanks and Emma Thompson. That film chronicles the struggles Walt Disney (Hanks) endured trying to bring the Mary Poppins book from author P.L. Travers (Thompson) to the big screen.
Mary Poppins stars Julie Andrews, Dick Van Dyke, David Tomlinson and Glynis Johns. Look for further details on the 50th anniversary Blu-ray release in the coming months.