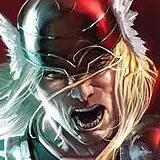 The first day of principal photography for Marvel's Thor wrapped today, the third film in the 'Avengers' series and first under the direction of Kenneth Branagh (Hamlet).
Thor didn't kick off without some drama as actor Stuart Townsend, set to play supporting character Fandral, was fired on the first day of filming due to "creative differences." AICN reports the move was a firing due to Townsend's tardiness in arriving to a screen test (6 hours late!) and not an amicable split.
Whatever the reason, and it really doesn't matter, the role had to be filled and unknown Joshua Dallas has been tapped. As "Errol Flynn as Robin Hood-inspired" Fandral, he will appear alongside Ray Stevenson (Volstagg) and Tadanobu Asano (Hogun) to form The Warriors Three.
In addition to Chris Hemsworth as Norse God Thor whom is banished to Earth, the film will also feature Natalie Portman as nurse Jane Foster aka Thor's human love interest; Tom Hiddleston as Thor's evil brother Loki; Anthony Hopkins and Rene Russo as Thor's parents; Kat Dennings as Darcy, Idris Elba as Heimdall, Stellan Skarsgard as professor Andrew Ford, and Jaimie Alexander as Sif, Thor's Asgardian love interest. Samuel L. Jackson as Nick Fury is rumored to pop up for a quick cameo much in the same manner as he did in Iron Man.
Speaking of the might metal one, Iron Man 2 director Jon Favreau has been tweeting about his "executive" access to the Thor sets. Don't count on Jon to pass along any real scoops, but stranger things have happened.