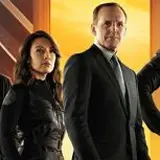 ABC's TCA media briefing yielded some interesting news regarding the future of Star Wars on television. In addition, it triggered a social media reveal of the official Marvel's Agents of S.H.I.E.L.D. poster that can be viewed below.
The S.H.I.E.L.D. poster was delivered in parts by the show's cast and crew including Joss and Jed Whedon. Each participant revealed a portion of the poster with a new actor uncovered once the previous participant had received 500 retweets. It didn't take long for the entire poster to be unveiled.
Pictured on the Marvel's Agents of S.H.I.E.L.D. poster are the core cast consisting of Agent Coulson (Clark Gregg), Melinda May (Ming-Na Wen), Skye (Chloe Bennet), Grant Ward (Brett Dalton), Leo Fitz (Iain De Caestecker), and Jemma Simmons (Elizabeth Henstridge). Cobie Smulders as Agent Maria Hill will also appear in the pilot but her ongoing participation is up in the air.
J. August Richards appears in the pilot as a man with super abilities, but Joss Whedon is keeping mum on who his character is and whether we will see him again. He did say that he loved what J. August Richards brought to the pilot and told the media "you do the math" in regards to seeing him again in a future episode.
When ABC was pressed by the media regarding Lucasfilm now falling under the same Disney umbrella, ABC executive Paul Lee told a gaggle of press that the network has begun conversations with Lucasfilm about bringing the Star Wars universe to the small screen per the NY Times. He has "an inkling in his mind" of what that series will be like, but Lucasfilm has a lot of their plate with Episode VII gearing up for production.
Disney already has the animated series Star Wars Rebels in production for Disney XD from Dave Filoni, the man behind Star Wars: The Clone Wars. The upcoming resurgeance of Star Wars in pop culture from this series and the new films should push the issue for ABC to move forward on a live-action television series in the same vein as Marvel's Agents of S.H.I.E.L.D..