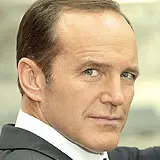 ABC has picked up Marvel's Agents of S.H.I.E.L.D. for a full season order despite the new drama suffering a ratings drop over its past two episodes.
Agents of S.H.I.E.L.D. premiered in grandiose fashion with just over 12 million viewers and a hot 4.7 rating in the 18-49 demo. The second episode '0-8-4' took a big tumble as the 18-49 rating fell all the way down to a 3.3. That's still an impressive number, especially for ABC, but a bit of a blow following the big premiere episode.
This past Tuesday's episode 'The Asset' took another tumble, though not quite as dramatic as the first. It dropped to a 2.8 in the 18-49 demo to continue a slide that ABC and Marvel Studios would love to see peter out.
Even at 2.8, Agents of S.H.I.E.L.D. is holding up strong against stiff competition on Tuesday nights that includes NCIS and The Voice, and leads all male demographics for the night. ABC could probably get more live viewers in a different time slot, but the full season pickup shows they're happy with the show's performance against the big boys.
Agents of S.H.I.E.L.D. joins NBC's The Blacklist, which also received a full first season, and Fox's Sleepy Hollow, which scored an early Season 2 renewal.