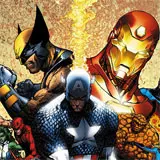 Disney is aiming to add the elusive "boy" brand to its female and young child heavy portfolio by purchasing Marvel Studios for $4 billion.
The sale moves thousands of Marvel characters including Spider-Man, The Hulk and Iron Man under the Disney umbrella that right now is dominated by Hannah Montana and other "tween" properties.
As of today, Marvel has theatrical, DVD and Blu-ray Disc distribution deals in place with Sony for Spider-Man, Twentieth Century Fox for X-Men and Paramount for Iron Man, amongst others. Disney will likely look to move the distribution of these properties to their brand over time but for now are expected to honor the previously inked lucrative agreements.
The next big Marvel film due in theaters is next summer's Iron Man 2. That film will still be distributed by Paramount, though the following summer's Thor and Captain America might be a different story.