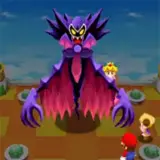 The latest Mario & Luigi team-up returns the plumber brothers to the action/rpg genre in Mario & Luigi: Dream Team, hitting stores this Sunday, August 11 exclusively for Nintendo 3DS.
In this new outing, Mario & Luigi take a vacation to Pi'illo Island where they discover that Luigi's brain opens portals to a dream world when he's asleep. The game place place in the "real" world of Pi'illo Island, but when the action shifts to Luigi's dreams, Mario is joined by scores of "Luiginoids" that aid Mario in traversing tricky environments and defeating bosses.
Of course, a Mario game wouldn't be a Mario game if Princess Peach didn't need rescued. In addition to plucky Peach out of a dire predicament for the umpteenth time, Mario & Luigi are also tasked with helping Prince Dreambert free his island folk from the bat-king's spell that has left them all petrified.
Mario & Luigi: Dream Team is available to pre-order with free shipping at Amazon.com, where it has climbed into the top 50 current bestselling video games chart.