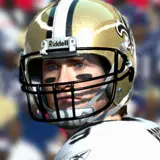 On the first day of the NFL Draft 2010, EA has announced New Orleans quarterback and Super Bowl XLIV MVP Drew Brees was rightfully chosen by fans to be the cover athlete for Madden NFL 2011 on Xbox 360, PS3, PS2, Wii and PSP.
EA partnered with Doritos to create the "Change the Game" program that allowed fans – for the first time ever – to be responsible for the cover athlete. Additional opportunities will allow fans to choose what teams will square off in the demo, as well as voting on rookie player ratings during the NFL Draft. This can all be accomplished at the official Madden website.
New to this year's edition is an all-new playing system called "GameFlow" that simplifies and speeds up the process. EA expects the new system to cut game time in half. Animations, controls, online options and audio have all been improved.
In addition to consoles, Madden NFL 2011 will be available for download to iPod touch and iPhone.