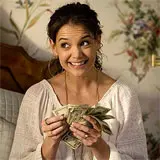 Online retailers have begun taking pre-orders for the comedy Mad Money from Starz/Anchor Bay Home Entertainment, scheduled for a November 18 release on Blu-ray Disc.
Mad Money stars Diane Keaton, Queen Latifah and Katie Holmes, in the role she chose over The Dark Knight, as inside-job bank robbers. It earned a paltry $20.6 million domestically at the box office.
Due to the early nature of this listing we don't have any technical specs or extra features to share at this time. We'll be sure to pass along any updates as they are received.
Mad Money on Blu-ray Disc carries an SRP of $39.98.
Click here to pre-order Mad Money on Blu-ray for $27.95 from Amazon.com.