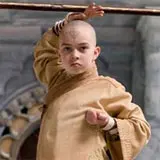 M. Night Shyamalan's The Last Airbender live-action film is coming to Blu-ray Disc and DVD on November 16.
The critically panned first film of a planned trilogy that stars Noah Ringer (Cowboys & Aliens), Dev Patel (Slumdog Millionaire), Jackson Rathbone (The Twilight Saga: Breaking Dawn Part 1) and Nicola Peltz (Deck The Halls) will be presented on Blu-ray in 1080p video and 5.1 DTS-HD Master Audio. As expected, Paramount will not be releasing a Blu-ray 3D version at this time.
The Last Airbender Blu-ray is a combo pack that also includes the DVD version and a digital copy. The complete roster of bonus features are as follows:
Feature Film (HD)
Discovering The Last Airbender (nine-part documentary in HD)

Inspirations – Co-creators of the show and M. Night Shyamalan give insight into the inner journey the characters take
Spirituality – Explore the deeper spirituality that colors The Last Airbender
Heroes – Aang, Katara and Sokka journey together to save the world; behind-the-scenes piece provides a closer look at these characters and the actors
Greenland – With sub-zero shoots on glaciers and frozen rivers, travel with the filmmakers to Greenland to meet the locals and experience the magnificent landscapes captured for the powerful opening of the film
World – The sets, props, costumes and make-up that helped bring to life four unique nations in the film, each with a distinct look and style
Action – With the film's "bending" rooted in Martial Arts, uncover Shyamalan's process with Noah Ringer to create complex, heart-pounding action sequences
Effects – Closer look at the jaw-dropping cinematography and special effects that were created to blend seamlessly with ILM's computer generated imagery
Music – Longtime creative collaboration between M. Night Shyamalan and composer James Newton Howard is celebrated in the film's sweeping score
Finale – The journey culminates in one breathtaking moment on the ice wall

Siege of the North (HD) – Get transported to the frozen realm of the Northern Water Tribe and the largest indoor film set ever built on the U.S. east coast
Origins of the Avatar (HD) – Birth of the mythology from the original co-creators of the animated show, Mike DiMartino and Bryan Konietzko. Concept art from the popular series provides further perspective into how the story would eventually reincarnate into an epic feature film
Katara for a Day (HD) – Spend a day on the set with Nicola Peltz
Deleted Scenes (HD)
Outtakes (HD)
Avatar Annotations (Picture-in-picture on select scenes) – Insights with cast and crew
Enjoy a look at The Last Airbender Blu-ray cover art below, then pre-order The Last Airbender on Blu-ray for $31.99 at Amazon.com.