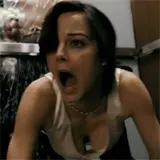 Universal Studios wants to give your Christmas week a scare with their plans to release M. Night Shyamalan's Devil on Blu-ray Disc and DVD December 21.
Devil is based on a story by producer Shyamalan and directed by John Erick Dowdle. It is the first in a planned series of "The Night Chronicles" movies that the Sixth Sense creator will dream up and hand over to other filmmakers to execute.
The Blu-ray version of Devil will be presented in 1080p video and 5.1 DTS-HD Master Audio. Bonus features will include the following:
Deleted Scenes
The Story – Filmmakers discuss the elements that make for a thrilling story.
Devil's Meeting – A look at the mythology behind the film.
The Night Chronicles – M. Night Shyamalan discusses his vision for his new venture, The Night Chronicles.
Pre-order Devil on Blu-ray for $27.99 at Amazon.com.