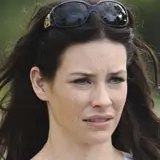 The sixth and final season of ABC's Lost continues its improving trend over last season by weathering a minimal drop in viewers after the two-part season premiere, 'LA X.'
The third episode, 'What Kate Does,' pulled in an estimated 11 million viewers last night (4.9 rating). The 10% drop from 'LA X' is still an 11% increase from the third episode of season five that aired last year on a Wednesday as opposed to this season's Tuesday time slot.
It is hard to imagine anyone deliberately missing 'What Kate Does' after the big Sayid cliffhanger that closed 'LA X.' The same holds true looking ahead to 'The Substitute' with long "lost" feral Claire popping out of the bushes looking like a surfer version of Rousseau to close 'What Kate Does.'
Is she really Claire, or isn't she? Next week should be another good one.