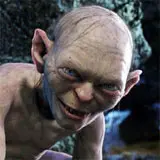 The details are starting to fill in on the much-anticipated The Lord of the Rings Blu-ray box set from New Line and Warner Home Video.
First, we can now confirm via retailers and a trade magazine advertisement that the finalized release date for the set is November 3. That is about a month earlier than initially expected so good news on that front.
As you may already know, this box set is strictly the theatrical versions of each film: The Fellowship of the Ring, The Two Towers, and Return of the King. The extended cuts previously released on DVD are being held back for a separate box set release expected to time with Guillermo del Toro's first The Hobbit film's theatrical or home video release.
Bonus features for this first LOTR Blu-ray set have also been revealed and, as expected, contain no new material. The newness will come from the 1080p video and lossless audio (exact format unknown but 7.1 DTS-HD Master Audio is expected) which is what most of you are clamoring for anyways.
LOTR.net featurettes
Previews, theatrical trailers and TV spots

Fellowship of the Ring

Welcome to Middle Earth
Quest for the Ring
A Passage to Middle Earth

The Two Towers

In the Set
Return to Middle Earth

The Return of the King

The Quest Fulfilled: A Director's Vision
A Filmmaker's Journey: Making Of
National Geographic special
The Lord of the Rings: The Motion Picture Trilogy (that's the official name) has a retail price set at $99.98 and an Amazon.com price of $69.99. You can secure your set now by clicking here.