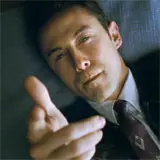 The sci-fi thriller Looper starring Bruce Willis, Emily Blunt and Joseph-Gordon Levitt has a confirmed December 31, 2012 release date on Blu-ray and DVD, just in time to kick back and watch on New Year's Eve instead of all the corny television coverage of the countdown to 2013.
Looper comes from the mind of writer/director Rian Johnson and performed strong at the box office, more than doubling its budget in domestic earnings with $65.1 million. Another $75 million was earned overseas to bring Looper's haul to just over $140 million.
Look for the Blu-ray edition of Looper to also include UltraViolet and be presented in 2.35:1 1080p video and 5.1 DTS-HD Master Audio. Bonus features are plentiful as you can see below:
BD Exclusive: The Science of Time Travel
BD Exclusive: 17 Additional Deleted Scenes with Rian Johnson Commentary
Commentry with Actors Joseph Gordon-Levitt, Emily Blunt and Director Rian Johnson
Deleted Scenes with Rian Johnson Commentary
Looper Animated Trailer
Scoring Looper Time Machine
Scoring Looper A Day In The Life
Scoring Looper Revelations
Abe Gathers the Troops test
Evil Demon Golf Ball From Hell (EASTER EGG)
Click here to pre-order Looper on Blu-ray for a discounted price at Amazon.com.