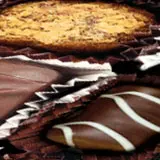 The thing about a box of chocolates is you never know what you're gonna get. Unless the box is from Paramount and has Tom Hanks on its cover.
Following up our previous story revealing the Forrest Gump Box of Chocolates Blu-ray Disc gift set is this first look at the packaging and contents in high resolution. As you can see below, yes, there are chocolates but no, I would not recommend eating them unless you crave the taste of cardboard.
According to Paramount they should smell like the real deal and, as pictured, will come with the two-disc Sapphire Series release of Robert Zemeckis' Forrest Gump, a book and a feather bookmark.
The set retails for $49.99 but can currently be pre-ordered at Amazon.com for $30.99.
Click either of the packaging images below for larger high-res versions.