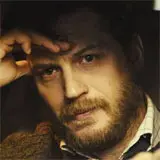 Tom Hardy goes for the car ride of his life in Locke, the new thriller from writer-director Steven Knight (Dirty Pretty Things, Eastern Promises) slated to arrive on Blu-ray, Digital HD and DVD from Lionsgate Home Entertainment on a release date of August 12.
Distributor A24 films put out Locke in limited theatrical release back in late April. It never played in more than a handful of theaters, instead finding more of an audience via video-on-demand. Hopefully more people will get to see Locke when it makes its Blu-ray and DVD debut considering it won Best Screenplay at the British Independent Film Awards.
Locke is presented on Blu-ray in 2.4:1 1080p video and 5.1 DTS-HD Master Audio. Bonus features shouldn't take too long to go through as there are only a couple as noted below:
"Ordinary Unraveling: Making Locke" featurette
Audio Commentary with Writer/Director Steven Knight
Pre-order Locke on Blu-ray combo for a discounted price at Amazon.com.