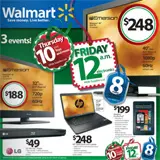 Black Friday 2011 is almost here and Walmart has their act together in ensuring the right ad circular for your local store is online and ready to be perused.
A stop over at the official Walmart website reveals the ad right on the homepage. It will default to whatever Black Friday 2011 circular is attached to your zip code if you've shopped at Walmart.com before. Or, you can just as easily change the zip code and see any circular you want.
The big deals relative to home entertainment are headlined by an Emerson 40″ LCD TV for a mere $248. You can guarantee those will fly out the door to those who camp out in line hours before the doors open. Other deals that caught my eye are a Sony BD-Live Blu-ray player for $49, a Sony Playstation 3 160GB console with LittleBigPlanet 2 Special Edition and Ratchet & Clank: All 4 One for $199, Skylanders Starter Packs for $49.96, an Xbox 360 4GB console with Kinect and Kinect Adventures! for $199.96, and an Xbox 360 4GB console with Gears of War 3 and 3 months of Xbox Live Gold for $199.
The video game items are part of the 10pm Thursday evening i.e. Thanksgiving night pre-Black Friday event. The TVs and Blu-ray players won't be available to purchase until two hours later at 12am midnight when everything store-wide will be up for grabs.
Swing by Walmart.com to browse your local 2011 Black Friday ad in its entirety.