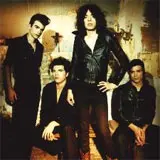 The Missouri rock band Living Things has landed the honor of portraying The Ramones in The Runaways biopic starring Kristen Stewart as Joan Jett and Dakota Fanning as Cherie Currie.
The Living Things were chosen for the scene at Rodney Bingenheimer's English disco due to their family ties to director Floria Sigismondi. You see, Floria is married to Lillian Berlin who is the frontman for Living Things. It is hard to say no to family, especially when the resemblance is already there.
The news comes from Spinner who caught up with Berlin to discuss how they researched and prepared for the part. "Pretending like you don't give a s— about you're wearing, even though you know Johnny Ramone obsessed over their image," Berlin says, despite the band having never seen The Ramones in person. "Thanks to the Internet witch doctors for inventing YouTube."
The Runaways will release in 2010. In the meantime, check out a short video of Kristen and Dakota jamming on stage at a roller rink during the shoot.