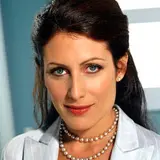 Lisa Edelstein and two of her 'House'-mates, Robert Sean Leonard and Omar Epps, were faced with a business dilemma as the morally-challenged medical drama House MD approaches its recently renewed 8th season on Fox. They could sign new contracts and return to co-star alongside Hugh Laurie in the fall, or depart and test the waters in new opportunities.
Edelstein chose the latter, officially confirming today that she has decided to leave House MD and her popular character Dr. Cuddy behind. Her statement regarding the decision read, "After much consideration, I am moving onward with a combination of disappointment at leaving behind a character I have loved playing for seven years and excitement of the new opportunities in acting and producing that lie ahead." Epps and Leonard both signed new deals and will return in season 8.
The departure of Edelstein effectively puts to rest fan hopes that Dr. House and Dr. Cuddy would ultimately find happiness in each other's arms after a short and rocky relationship recently spawned. Now Dr. House will have to deal with yet another bump in his tumultuous life and potentially clash with whoever takes Cuddy's place as his boss.
On the flip side, those complaining that the "Huddy" relationship was chewing up too many minutes can rejoice and look forward to the new Cuddy-free Dr. House misadventures to come.
Source: EW