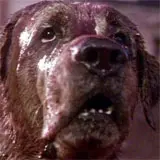 Lionsgate is dipping into their catalog and bringing Stephen King's Cujo: 25th Anniversary, The Monster Squad: 20th Anniversary, and the original My Bloody Valentine: Special Edition to Blu-ray Disc on November 24.
The trio of 1980s horror flicks will all be presented in their original aspect ratios with 1080p video transfers and 5.1 DTS-HD Master Audio.
Other than some unannounced extras on The Monster Squad, all of the expected bonus features inclusive with these releases are as follows:
Cujo: 25th Anniversary Edition
Audio commentary with Director Lewis Teague
Three part documentary "Dog Days: The Making of Cujo"
The Monster Squad: 20th Anniversary
Five-part retrospective featurette Monster Squad Forever!
A Conversation with Frankenstein
Deleted scenes
Animated storyboard sequence
And more…
My Bloody Valentine: Special Edition
"Bloodlust: My Bloody Valentine and the Rise of the Slasher Film"
"Bloodlines: An interactive Horror Film History"
Deleted footage
Lionsgate has priced these new horror releases with an SRP of $19.99. I'll pass along Amazon pre-order information once their pages go up.