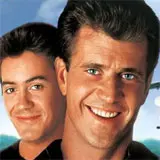 Rounding out Lionsgate's big catalog Blu-ray party on November 24 (see the horror and thriller announcements) are a pair of action titles: Air America with Mel Gibson and Robert Downey Jr., and New Police Story with Jackie Chan.
Remastered 1080p transfers and 5.1 DTS-HD Master Audio are in the cards for both releases, as are a selection of bonus features broken out by title below.
Air America
Audio commentary with Writer/Co-Producer John Eskrow
Pre-Flight: The Storyboards of Air America
Return Flight: Revisiting Air America
and more…
New Police Story
The Making of New Police Story
English dubbing featurette
Select scene commentary with Jackie Chan
Expect a $19.99 SRP with actual retail pricing coming in around $15. Pre-order links should become available soon and will be shared when they arrive.