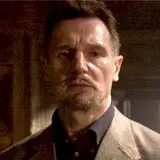 Rumors have been swirling around the Internet for months that Liam Neeson would reprise the role of Ra's Al Ghul in The Dark Knight Rises. Now it appears those rumors have been proven accurate by none other than Mr. Neeson himself.
Neeson is currently doing press rounds for his new thriller The Grey and ShowBizSpy (or whatever media outlet asked the questions as it isn't clear) was sly enough to ask him directly about his involvement in The Dark Knight Rises. Neeson at first told them that he knew nothing about the film. However, he went on to confirm his involvement, "I was on set for maybe an hour-and-a-half, and the director didn't tell me anything of what it's about."
An hour-and-a-half sounds like long enough to shoot a short cameo, likely a flashback scene with actress Joey King who let slip that she is playing a young version of Talia Al Ghul, Ra's daughter. Or, maybe Ra's will share a scene with a younger Bane.
Either way, it sounds like Ra's Al Ghul will grace the big screen again.
The Dark Knight Rises from director Christopher Nolan stars Christian Bale, Tom Hardy, Anne Hathaway, Gary Oldman, Joseph-Gordon Levitt, Michael Caine and Marion Cotillard. It opens in theaters and on IMAX on July 20.
Source: ShowBizSpy