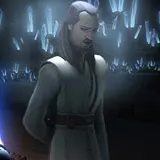 George Lucas' Star Wars prequels only briefly hinted at the idea that Jedi can become ghosts after death, implied by Liam Neeson's Qui-Gon Jinn character meditating minutes before being impaled by Darth Maul. It was assumed Qui-Gon appeared as a ghost to Yoda and Obi-Wan in their years of isolation but never shown in the films.
With the Star Wars saga living on in The Clone Wars cartoon that takes place between Attack of the Clones and Revenge of the Sith, the opportunity exists for Qui-Gon to return. And he well.
Entertainment Weekly has learned that Liam Neeson has recorded the voice of Qui-Gon Jinn as a ghost for a pair of upcoming The Clone Wars episodes set to air on January 28 and February 11. He'll communicate with Obi-Wan in these episodes that are part of a three-story arc regarding Anakin Skywalker's destiny as the "Chosen One."
Though Neeson's character was widely liked in Star Wars: The Phantom Menace, the film is widely panned as the worst in the saga. So why would Neeson want to return? In his words, "Growing up, my heroes were cowboys; they were strong and mysterious, and it seemed like they always rode off into the sunset. For kids today, Star Wars has that same kind of magic. I really wanted to be a part of that."
And so he will. Hop on over to EW for a video preview of Liam Neeson reprising the role of Qui-Gon Jinn in Star Wars: The Clone Wars.