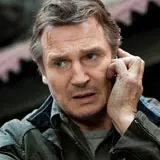 The Liam Neeson sequel Taken 2 led a lively Columbus Day weekend at the North American box office including strong holdovers Hotel Transylvania and Looper. Tim Burton's 3D animated comedy Frankenweenie did not fare as well. Not only did the box office jump up 26% from last weekend's numbers, this weekend's top ten was up a huge 62% over the same period a year ago.
It might have taken four years for it to happen, but Taken 2 and Liam Neeson in ass-kicking mode arrived on 3,661 screens this weekend and the wait appears to have been worth it. The sequel drummed up a mammoth $50 million opening that doubled the original's surprise debut. Taken 2 was slammed by critics who issued a weak 20 percent approval rating on Rotten Tomatoes. But a 58 percent approval rating wasn't crucial to the first film's success so why should it be the second time around? All audiences want to see is Neeson kicking some more Eurotrash in an effort to rescue his once-again kidnapped daughter. In addition to its mammoth North American opening, the film also made a killing overseas where it earned $67 million.
Last weekend's number one film, Adam Sandler's 3D-animated comedy Hotel Transylvania, had a solid second weekend. It eased a mere 38% from its record opening to earn an estimated $26.3 million to bring its total to the $76 million mark.
After making a lot of noise in limited release last weekend, the Universal comedy Pitch Perfect expanded into wide release to earn a good $14.6 million from 2,770 theaters. To date, the Anna Kendrick flick has earned a solid $21.6 million to date and could sing its way past the $50 million mark.
While it took a hit from the arrival of Taken 2, the sci-fi action flick Looper still managed to hold its own thanks to positive word-of-mouth from opening weekend crowds. Off 41 percent, the Joseph Gordon-Levitt time travel flick earned a good $12.2 million in its second weekend to bring its total to the $40.3 million mark. Looper is looking to close the loop at the domestic box office with approximately $60-65 million and considerably more from overseas.
Poor Tim Burton, it seems he just can't catch a break this year. His update of Dark Shadows was a creative, critical and financial dud, barely earning $80 this past spring. Now, his critically-adored 3D animated feature Frankenweenie has hit one of those cinematic speed bumps as well. The film underperformed in its opening weekend with a tiny $11.5 million from 3,005 theaters. What made that number even more distressing for Disney is that most of those screens were charging higher prices for 3D showings. Undoubtedly, the movie's box office chances were considerably curtailed by the continued success of fellow 3D family horror comedy Hotel Transylvania.
The remainder of the top ten were as follows:
6. End of Watch (Open Road Films) $4 million (-48%) $32.8 million
7. Trouble With the Curve (Warner Brothers) $3.8 million (-47%) $29.7 million
8. House at the End of the Street (Relativity) $3.7 million (-48%) $27.5 million
9. The Master (Weinstein) $1.8 million (-31%) $12.3 million
10. Finding Nemo (3D reissue) (Disney/Pixar) $1.55 million (-61%) $38.9 million
Next weekend Liam Neeson and Taken 2 will face a particularly diverse field of competition in Ben Affleck's Argo, Here Comes the Boom, Atlas Shrugged Part II, Seven Psychopaths, and Sinister. Look for Taken 2 and Liam Neeson to finish in the top three, if not challenge for first place in its second weekend of release.
– Shawn Fitzgerald