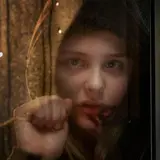 Anchor Bay has officially dated Matt Reeves' Let Me In for a Blu-ray Disc and DVD launch on February 1, confirming an earlier retailer listing and providing all the juicy details and cover.
The remake of Let The Right One In starring Kodi Smit-McPhee and Chloe Moretz will come to Blu-ray in 2.4:1 1080p video and 5.1 Dolby TrueHD audio. An extensive list of supplemental features will include the following:
Audio Commentary with Writer/Director Matt Reeves
From the Inside: A Look at the Making of Let Me In
The Art of Special Effects
Car Crash Sequence Step-By-Step
Blu-ray Exclusive: Dissecting Let Me In
Unrated Deleted Scenes
Trailer Gallery: Greenband Trailer, Redband Trailer
Poster & Still Gallery
Digital copy of the film
Pre-order Let Me In on Blu-ray for $27.99 at Amazon.com.