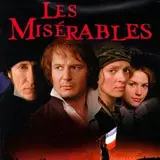 On Christmas Day, Les Miserables will return to theaters in a new adaptation of the popular stage musical that is directed by Tom Hooper and stars Hugh Jackman, Anne Hathaway and Russell Crowe. Before it does, a prior theatrical adaptation will make its Blu-ray debut.
Sony Pictures Home Entertainment has announced the 1998 version of Les Miserables starring Liam Neeson (Taken 2, Claire Danes (Homeland), Uma Thurman and Geoffrey Rush will make its Blu-ray debut on December 4, 2012. The film will be presented on Blu-ray in 2.4:1 1080p video and 5.1 DTS-HD Master Audio, and also include an UltraViolet copy.
The lone bonus feature, 'First Look at Les Miserables,' is actually and somewhat appropriately to promote the new film. No bonus features relating to the 1998 version are expected to be on the disc.
Click here to pre-order Les Miserables on Blu-ray for $13.99 at Amazon.com, 30% off the $19.99 list price.