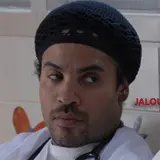 Lenny Kravitz has joined The Hunger Games movie as Cinna, fashion stylist to Katniss Everdeen (Jennifer Lawrence). Additionally, Toby Jones will join The Hunger Games announcer booth alongside previously cast Stanley Tucci.
Kravitz can thank his role as Nurse John in Precious for landing him in The Hunger Games. Director Gary Ross saw Kravitz share many of the qualities he was looking for in Cinna after his performance in that film.
Jones recently played the voice of Dobby in Harry Potter and the Deathly Hallows Part 1 and will next be seen as Arnim Ola in Marvel and Joe Johnston's Captain America: The First Avenger and play a role in Steven Spielberg's The Adventures of Tintin.
The Hunger Games starring Jennifer Lawrence, Liam Hemsworth and Josh Hutcherson, is gearing up to begin shooting in western North Carolina. It will arrive in theaters on March 23, 2012.