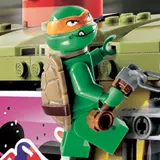 It's cowabunga time for Lego as today at New York Comic-Con they officially announced a new Teenage Mutant Ninja Turtles license that commences immediately via a pair of NYCC exclusive giveaway figures (see below).
The only confirmed set at this time is The Shellraiser Street Chase at 620 pieces. This set includes minifigures of Leonardo, Michelangelo, Dogpound, Foot Soldier and Kraang. Donatello, Raphael, Splinter and Shredder are coming as well, but Lego has revealed what sets they will be included with just yet.
Lego's TMNT line is based off the new hit Teenage Mutant Ninja Turtles animated series on Nickelodeon. If you haven't seen the show yet then you have probably noticed the huge section of TMNT action figures that have already invaded retail outlets.
The Shellraiser Street Chase Lego TMNT set is due to be released on January 1, 2013 at a price of $59.99. If history is any indication, a few of these might end up on retail shelves the week or two before Christmas. I saw that happen with a few of the DC Superheroes sets last December. Keep your eyes peeled.
This Lego TMNT license announcement opens the door for TT Games to release a Lego TMNT video game. How cool would that be? I wouldn't be surprised if we saw one released by next year at this time.
Click any of the Lego TMNT images below for a nice big resolution version.