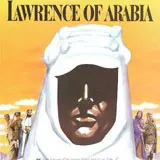 David Lean's Lawrence of Arabia starring Peter O'Toole celebrates its 50th anniversary this year and Sony is rolling out the red carpet to ensure the film's Blu-ray debut spares no expense.
To bring Lawrence of Arabia to Blu-ray, Sony Pictures' Colorworks went back to the original film negative and meticuously restored the print at 4k resolution. This new transfer will be available in the two-disc and four-disc collector's gift set that both include recycled and all-new bonus features.
First, let's look at what's included in the two-disc set:
Disc 1:
Feature Film, including overture, intermission, entr'acte and exit music
Newly re-mastered 5.1 English audio
Secrets of Arabia: Picture-in-Graphic Track
Disc 2:
Featurettes:

"Peter O'Toole Revisits Lawrence of Arabia" All-New Interview
"The Making of Lawrence of Arabia" documentary
"A Conversation with Steven Spielberg"
"The Camels Are Cast"
"In Search of Lawrence"
"Romance of Arabia"
"Wind, Sand and Star: The Making of a Classic" (1970 version)

Newsreel Footage of the New York Premiere
Advertising Campaigns
The four-disc collector's edition gift set is for the ultimate Lawrence of Arabia fan. It includes all of the above PLUS an authentic 70mm film frame, an 88-page coffee table book, and the following two additional discs:
Disc 3:
Never-Before-Released Deleted Scene with Introduction by Anne Coates
"The Lure of the Desert: Martin Scorsese on Lawrence of Arabia" All-New Interview with Martin Scorsese
Featurettes:

"In Love with the Desert"
"King Hussein Visits Lawrence of Arabia Scene"
"Wind, Sand and Star" (original version, 1963)

Archival Interviews with William Friedkin, Sydney Pollack, Martin Scorsese and Steven Spielberg
Trailers/TV Spots:

Theatrical Trailer
Teaser Trailer #1
Teaser Trailer #2
70mm Restoration Trailer (1989 Release)
TV Spot #1
TV Spot #2
Disc 4:
Exclusive Lawrence of Arabia Soundtrack CD
Click here to pre-order the Lawrence of Arabia 50th Anniversary Collector's Edition Gift Set Blu-ray for $67.19 at Amazon.com, 30% off the $95.99 list price.