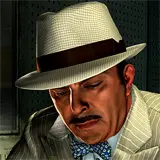 This morning Rockstar Games and Take-Two Interactive confirmed a May 17 release date for L.A. Noire in the U.S. and May 20 in Europe for Playstation 3 and Xbox 360.
The announcement comes after what will be the second trailer for the game leaked over the weekend and included the release date within it. While the trailer was amazing, it was the release date that drew all the attention.
Rockstar quickly pulled the trailer but by then the cat was already out of the bag. A once-touted spring 2011 release date now falls into early summer, but at least it's a definitive date and not a vague launch window.
We're still waiting for Rockstar to officially share the trailer (it isn't on the game's official website yet).
L.A. Noire is poised to offer a revolutionary gaming experience with the implementation of MotionScan performance-scanning technology. This system utilized 32 high-def cameras to capture an actor's performance in 3D. The result are characters whose every expression is easily detectable, a trait that will play into interrogation sequences where you'll have to determine whether a suspect is lying or telling the truth by watching his face and mannerisms.
Set in post-World War II Los Angeles during the 1940s, L.A. Noire will also feature sleuthing, shoot-outs and car chases. Since developer Team Bondi worked closely with Rockstar Games, you can bet the world they've created is nothing short of amazing.
Click here to pre-order L.A. Noire on Xbox 360 or PS3 for a discounted price at Amazon.com.